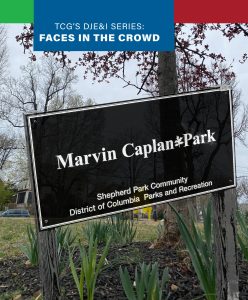 In 2019, TCG adopted Marvin Caplan Park, a small greenspace a few blocks from TCG's headquarters. This was part of our annual social cause that year to support state, local, and national parks. In 2023, TCGers voted to renew that commitment to our parks and greenspaces, which made us think it was a good time to remind everyone of our park's namesake.
So who was Marvin Caplan?
Marvin Caplan was a civil rights activist, journalist, lobbyist for the AFL CIO, veteran of the second World War, and more. He left his imprint on Washington D.C. as a founder of Neighbors Inc., a civic organization created to fight racist real estate practices and the segregation of areas in the city.
Neighbors Inc. worked to integrate neighborhoods throughout D.C. Caplan organized events, activities, and monthly meetings where the members talked about the neighborhood problems, how to bring people together, and ways to end segregated neighborhoods. Caplan's group influenced the creation of similar organizations in Chicago, New York, and other cities, and eventually the formation of a national organization.
Caplan volunteered his time and dedicated his life to social justice. He was executive director of the Leadership Conference on Civil Rights, one of the architects of The Civil Rights Act of 1964, the Voting Rights Act of 1965, the Fair Housing Act of 1968, and Title IX of the Federal Education law. Many have said that these would not exist in their current form without Caplan's behind-the-scenes work.
In 2018 there was a plaque dedication ceremony at Marvin Caplan Park with many friends and family attending to pay tribute to Caplan. Wade Henderson, a past president of the Leadership Conference for Civil and Human rights, spoke at the event. "At the national level, Marvin is probably the most important activist that no one has ever heard of," he said. "Marvin's commitment to building an America as good as its ideals became the foundation upon which the Leadership Conference is based."
Marvin Caplan died in 2000, but his legacy still lives on today. We here at TCG feel grateful for his wisdom, civil service, and legacy and are honored to take care of his park at the corner of Alaska Avenue NW and Holly Street NW in the Shepherd Park neighborhood of DC.
Read more:
Marvin Caplan's Obituary from the Washington Post
Race and real estate in mid-century D.C. from the D.C. Policy Center