Sunglasses Now Mandatory for All Meetings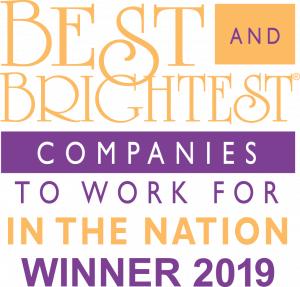 WASHINGTON, DC — TCG has been named one of the 2019 Best and Brightest Companies to Work for in the Nation by the National Association of Business Resources. The award honors organizations that display a commitment to excellence in operations and employee enrichment that lead to increased productivity and financial performance. This is the second year in a row that TCG has been named to the list.
While the companies on the list are not ranked, a little over 5,000 companies were nominated—a 50% increase from the previous year—with approximately 10% making the list. Nominees were assessed by a third-party organization and selected based on the strength of their communications, programs that support work-life balance, employee education, diversity, recognition, retention, and other factors.
"As we continue to raise the bar," said Jennifer Kluge, President and CEO, Best and Brightest Programs, "these companies rise to the challenge through cultural innovation, and maximizing their workforce's potential."
Daniel Turner, TCG's founder and CEO, said, "Awards like this are nice because they show that even in the current, very challenging environment for recruitment and retention we continue to do an excellent job of bringing in and keeping great people. Being a great company to work for demands that we look outside the company and work to improve the health of our community, our environment, and the lives of our employees and their families."
TCG's mission is to improve the world around us, in big and little ways, every day. Its employee happiness programs continue to support TCGers and foster a highly engaged workforce.
About TCG
TCG (https://www.tcg.com) aims to improve the world around us, in big and little ways, every day, for our staff, clients, and community. TCG provides the federal government with positively distinct IT and management advisory services in Agile development, federal shared services, budget formulation and execution, and health science analytics that help government programs and America succeed.