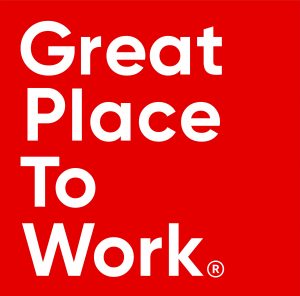 TCG has been named one of the 2022 Best Workplaces for Millennials by Fortune and Great Place to Work, ranking 28 out of 100 small and medium businesses. The award is based on what employees born between 1981 and 1996 say about their experiences of trust and reaching their full potential as part of TCG, regardless of their role in the company.
"The fact TCG is a great place to work is wholly attributable to the great people who work here," said David Cassidy, Vice President. "Awards like these are acknowledgement of the culture they have created and the fulfilling work they do. We support TCGers in every way we can, and we're glad these efforts are helping make TCG a positive presence in their lives."
As a Public Benefit Company and a Certified B Corporation, ensuring employee well-being and creating a positive, collaborative workplace are part of TCG's mission. TCG has had a remote-work-first policy since our inception 28 years ago, and has won national recognition for building a vibrant, positive workplace culture as our employees work from home or at client sites. We prioritize flexible scheduling built around our Core Value, "We value our families." TCG offers benefits for the whole person, such as emergency child care assistance, student loan repayment support, and an award-winning adoption assistance benefit.
Other perks range from free tickets to sporting, music, and cultural events to pet adoption, access to two company-sponsored vacation homes, and free annual passes to national parks.
Great Place to Work measured the differences in over 413,000 Millennials' survey responses to those of other generations. The responses were taken from America's largest ongoing annual workforce study of over 1 million employee survey responses and data from companies that represent more than 6.1 million U.S. employees.
"These companies value their millennial workers by showing genuine care, flexibility and purpose in ways that matter to this generation," says Michael C. Bush, CEO of Great Place to Work. "They expect company values to be lived by their leaders, which, in turn, elicits their loyalty and trust. Congratulations to the Best Workplaces for Millennials for their hard work."
Company rankings are derived from 60 employee experience questions within the Great Place to Work Trust Index™ survey. Read the full methodology.
About TCG
TCG aims to develop government that is efficient, transparent, and ethical. It provides the federal government with positively distinct IT and management advisory services in Agile development, federal shared services, budget formulation and execution, and health science analytics that help government programs and help America succeed. Visit www.tcg.com.
About Great Place to Work
Great Place to Wor has surveyed more than 100 million employees worldwide and used those insights to define what makes a great workplace: trust. Its mission is to build a better world by helping every organization become a great place to work For All™.