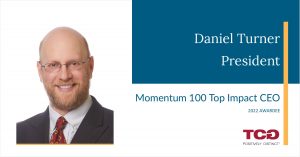 TCG is thrilled to announce that Daniel Turner, President of TCG, has been named a Momentum 100 (MO 100) Top Impact CEO. He is ranked in the top half of the list at number 46. The Momentum 100 award is given to leaders of companies that use business as a force for good in their communities and creating shared prosperity.
Turner founded TCG in 1994 to provide IT consulting services, starting with the National Institutes of Health. As the company grew, he made social responsibility and employee well-being top priorities, establishing an Employee Happiness department and creating an annual social cause for the company to support. TCG became a Public Benefit Corporation in 2017 and, in 2019, a Certified B Corp.
"As a Public Benefit Corporation, TCG has built the concept of improving the world into the very structure of our company," said Turner. "But as a private company with few shareholders, it's not hard to do that, so we also hold ourselves to external standards including the B Corp certification. These standards help us evaluate the actual impact we're having, which in turn allows us to do a better job of positively affecting our employees, our communities, and the world."
TCG has opened space at our headquarters for community events, adopted two parks in the city, and supported employees' volunteer work at area food banks, among other efforts. The company has an annual social cause and has set and met goals for making a positive impact in the community, environment, and for employees and customers. The company's focus on employee development and health has extended to lobbying in favor of DC's Paid Family Leave law — TCG was the largest company to testify in favor of the law.
Companies are ranked based on their "Force for Good Score", determined by multiplying growth rate, revenue, and the score of the company's B Impact Assessment. The B Impact Assessment was created by the non-profit B Lab, which runs the Certified B Corp process. The assessment offers a holistic evaluation of a company's environmental and social impact. TCG scored a 95 in 2019; its required 3‑year reassessment happens later this year.
About TCG
TCG (www.tcg.com) aims to improve the world around us, in big and little ways, every day, for our staff, clients, and community. TCG provides the federal government with positively distinct IT and management advisory services in Agile development, federal shared services, budget formulation and execution, and health science analytics that help government programs and America succeed.
About the MO 100
Presented by Big Path Capital, the MO 100 shines a spotlight on CEOs who are the real catalysts and agents of change driving the most dynamic segment of the economy. MO 100 Top Impact CEOs champion a new vision of capitalism, demonstrating that every transaction represents an opportunity to create positive outcomes for all stakeholders.