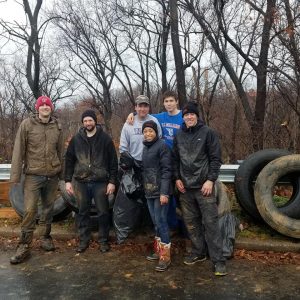 TCG is pleased to announce that the company is donating $11,799.98 to each of two non-profit organizations that protect vital green spaces in Washington, D.C. The funds will support Rock Creek Park Conservancy and Ward 8 Woods.
Rock Creek Park Conservancy is an advocate for the Rock Creek watershed. Through education, volunteerism, and advocacy, the organization is building a culture of environmental stewardship and deepening the connection between the city's diverse communities and this important watershed and greenspace. TCG is also partnering with the Conservancy for a park clean-up event on Earth Day.
Ward 8 Woods is a grassroots non-profit organization that is working to rejuvenate the ecological health and increase the beauty of the 500-plus acres of forest in the Ward 8 section of the city. They not only do vital work in cleaning up trash dumped in green spaces and removing invasive species that affect the health of forest land, Ward 8 Woods also provides green jobs as Park Stewards for members of the community. They have increased awareness and engagement about the problem of illegal dumping and the role green spaces play in the overall well-being of communities. The funds will be used to pay the crew of Park Stewards for their ongoing work to clean up decades of dumping and protect trees from invasive vines. Ward 8 Woods was one of the organizations at which TCG employees volunteered in 2019.
"Parks, especially those in underserved communities, face threats from illegal dumping, invasive species, and poor maintenance. Ward 8 Woods and organizations like it are essential to the long-term preservation of these sites," said TCG President Daniel Turner. "As a DC native, I'm grateful to Ward 8 Woods and the Rock Creek Park Conservancy for doing the vital work to preserve our parks."
The donations are part of the company's pledge to support a social cause chosen by employees every year and represents 1 percent of TCG's profit. In 2019, employees voted to focus on national, state, and local parks and the charitable organizations that support them.