Company is now dangerously close to exceeding the size limit. "I'm not scared," claims TCG President, Dan Turner.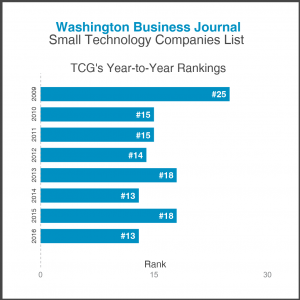 Washington, D.C. — After first appearing on the Washington Business Journal's "Small Technology Companies" list in 2009, TCG has made the list for an eighth consecutive time, ranked at No. 13 out of 30, a five-place leap from last year. The ranking is based on 2016 revenue for companies with less than 150 employees in the DC metro area.
"Some people think that it's bad to stay a small business, with only incremental growth, for as long as we have. I disagree," explains TCG President Daniel Turner. "Being on this list for eight years, particularly during and after the recession, shows that our company has consistently succeeded. We may not yet be a $100-million company, but we're growing consistently and that means we provide stability and security for our customers and employees."
TCG experienced a 20% increase in revenue, while the employee count increased by 26%. In 2016, TCG expanded its work with current clients; successfully acquired work at new agencies including the Food and Drug Administration (FDA), the National Institutes of Health (NIH) Office of Technology Transfer (OTT), the US Department of Veterans Affairs, and US Courts; and became ISO 9001:2015 certified.
About TCG
TCG (https://www.tcg.com) delivers the positively distinct IT and management advisory services that propel America forward. We help government agencies achieve the amazing, saving taxpayers more than $1 billion.
About Washington Business Journal
More than 2.5 million readers around the country use business journals to keep tabs on breaking news and research top companies, executives and organizations in their local communities through each business journal's annual Book of Lists.
WBJ offers a wide array of ways for business readers to get their information, including a weekly publication, and a strong online presence. They also sponsor numerous events throughout the year, and have many tools to facilitate networking for business owners, business people, and aspiring entrepreneurs.