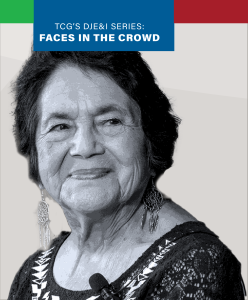 In honor of Hispanic Heritage Month, we would like to spotlight Dolores Huerta. Huerta is an activist and labor leader who co-founded what would become the United Farm Workers. With a long career as a civil rights advocate, at 93 she is still developing leaders and advocating for the working poor, women, and children.
Dolores was born in 1930 in New Mexico, the second child of Juan and Alicia (Chavez) Fernandez. Huerta became a teacher, married, and had two daughters. By 1960 she could no longer bear seeing her students come to class hungry and without essentials, so that year she started the Agricultural Workers Association (AWA). The AWA set up voter registration drives, lobbied politicians on migrant work issues, provided Spanish-language voting ballots and driver's tests, and more. In 1965, the AWA and the National Farm Workers Association (NFWA), which she co-founded, combined to become the United Farm Workers Organizing Committee (later, simply the United Farm Workers or UFW). That same year, the union took on the Coachella Valley grape growers, with Huerta negotiating the contracts.
She is excellent at connecting with other advocates to get things accomplished. One of her big "wins" came in 1963 when she was able to secure Aid For Dependent Families ("AFDC") and disability insurance for farm workers in the State of California, an unparalleled feat at this time in history. She was also instrumental in enacting the Agricultural Labor Relations Act of 1975. This was the first law of its kind in the United States, granting farm workers in California the right to collectively organize and bargain for better wages and working conditions. Huerta became one of the UFW's most visible spokespersons.
Later, Huerta traveled the country for two years on behalf of the Feminist Majority's "Feminization of Power: 50/50 by the Year 2000" campaign, where she encouraged Latinas to run for office. The campaign helped significantly increase the number of women representatives at all levels of government. She also served as the National Chair of the 21st Century Party, founded in 1992 on the principles that women should make up 52% of the party's candidates and that officers must reflect the ethnic diversity of the nation.
In 2012 Dolores, 82, received the Presidential Medal of Freedom. On that day, Secretary Solis said, "Her passion for justice has expanded to include women's equality, reproductive rights, and LGBT issues. Her dancing eyes and sweet voice continue to inspire people across the country and worldwide, just as they did for a young girl from La Puente who grew up to be the first Latina in a president's Cabinet. Today, she is my mentor, adviser, and wonderful friend."
Dolores is still out there today, in her 90s, teaching individuals that they have personal power and the responsibility to create the changes needed to improve lives. She empowers people through the Dolores Huerta Foundation (DHF), which she established in 2003. Its mission is to inspire and organize Central San Joaquin Valley communities for better access to education, health care, fair lending, and a cleaner environment.