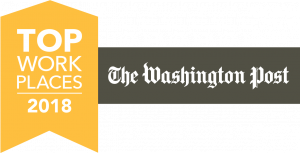 Washington, DC – TCG is enthusiastic to announce that, for the fourth year in a row, the company has been awarded a 2018 Top Workplaces honor by The Washington Post. TCG is ranked No. 34 on the overall list, and No. 3 among small custom software development and consulting businesses.
The Top Workplaces list is based entirely on employee feedback gathered through a third-party survey. The anonymous survey measures several aspects of workplace culture, including alignment, execution, and connection.
"The Washington Post Top Workplace award is particularly special because it's based on employee feedback," said Daniel Turner, TCG President. "It gives me great shivers of delight to learn that we aren't just making people happy, we're actually making them feel like this is one of the very best places to work."
"Top Workplaces is more than just recognition," said Doug Claffey, CEO of Energage, the company that conducted the employee survey. "Our research shows that organizations that earn the award attract better talent, experience lower turnover, and are better equipped to deliver bottom-line results. Their leaders prioritize and carefully craft a healthy workplace culture that supports employee engagement."
When compared to other custom software development and consulting companies, TCGers are 24% more connected to the company, 38% more feel well-informed about important decisions at TCG, and 19% more say that their job makes them feel like they are part of something meaningful.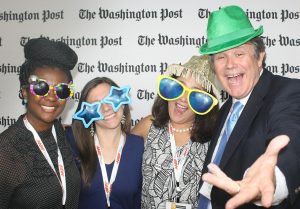 Some especially lucky TCGers, pictured here, celebrated this achievement at the Washington Post headquarters on June 21, alongside other 2018 Top Workplaces.
###
About TCG
TCG aims to improve the world around us, in big and little ways, every day, for our staff, clients, and community. TCG provides the federal government with positively distinct IT and management advisory services in Agile development, Technology Business Management, federal shared services, budget formulation and execution, and health science analytics that help government programs and America succeed.
About Energage, LLC
Headquartered in Exton, Pa., Energage (formerly known as WorkplaceDynamics) is a leading provider of technology-based employee engagement tools that help leaders to unlock potential, inspire performance, and achieve amazing results within their organizations. The research partner behind the Top Workplaces program, Energage has surveyed more than 47,000 organizations representing well over 16 million employees in the United States.