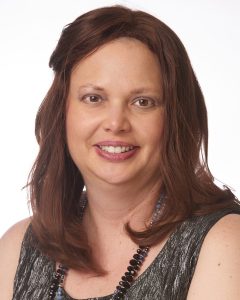 Ames, Iowa: Iowa State University's College of Liberal Arts and Sciences honored TCGer Lynette Hornung with the Department of Political Science Alumni Achievement Award at an honors and awards ceremony on Oct. 26, 2017, in Ames, Iowa. The award is conferred on alumni who have demonstrated outstanding achievement and received national or international recognition.
Hornung earned three degrees from Iowa State: a bachelor's degree in political science in 1993, a master of arts degree in political science in 1997, and a master of science degree in information assurance in 2004.
"We are thrilled to recognize Lynette with this Alumni Achievement Award," said Mack Shelley, University Professor and chair of the Department of Political Science at Iowa State. "Her impressive contributions to high-level information security and her extensive experience working with federal agencies are worthy of special recognition."
Since 2012, Hornung has served as a Senior Enterprise Security Architecture and Privacy Manager for TCG, Inc., providing consultation to TCG's clients, which includes some of the most sensitive agencies in government. She has over 20 years of experience in information security and privacy, and certifications including Sherwood Applied Business Security Architecture (SABSA) Foundation and Chartered Foundation (SCF), Practitioner (SCPA), Architectural Design and Practitioner (SCPR) in Risk Assurance and Governance, and Certified Information Privacy Professional (CIPP-US). She has worked with a variety of federal agencies providing enterprise security architecture, computer security, and privacy solutions and services.
Hornung has presented at a variety of computer security conferences in the United States and enterprise security architecture conferences internationally. She is a past recipient of a National Science Foundation CyberCorps Scholarship for Service Award.
"Lynette's highly commended work with these agencies demonstrates the breadth and depth of her expertise with information security at the very high levels and her ability to work with complex systems across multiple platforms," Shelley said. "She has also continued to provide mentoring and advice to Iowa State students as they prepare to launch careers in her areas of expertise. Her enthusiasm and support have been critical to the success of our students in information assurance, political science and public administration."
About TCG
TCG (https://www.tcg.com) delivers the positively distinct IT and management advisory services that propel America forward. We help government agencies achieve the amazing, saving taxpayers more than $1 billion.