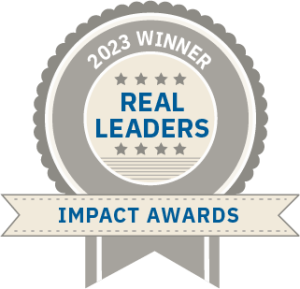 TCG is thrilled to be listed as a Top Impact Company of 2023 by Real Leaders. The award honors purpose-driven businesses that work to build a better, thriving world. This is the fifth annual listing of Top Impact Companies, and TCG is ranked 128 out of 300 companies, and fifteenth in the Technology category.
Through our B Corp certification with B Labs, TCG holds itself accountable to objective standards for our clients, employees, and communities. These standards help ensure we have a positive impact. TCG recertified as a B Corp during 2022. We're proud to say that our impact score from B Lab improved from our initial certification in 2019.
TCG has opened space at our headquarters for community events, adopted two parks in Washington, D.C., supported employees' volunteer work at area food banks, and worked with organizations to provide basic goods and services to the greater Washington D.C. metro area. With carbon offsets, a remote-work-first policy, solar panels at our headquarters, and a power management policy, TCG also has set and met goals for reducing and mitigating its environmental impact.
Ensuring employee well-being and creating a positive, collaborative workplace are part of TCG's mission. TCG has had a remote-work-first policy since our inception over 25 years ago, and has won national recognition for building a vibrant, positive workplace culture even as our employees work from home or at client sites. TCG offers benefits for the whole person, such as emergency childcare assistance, student loan repayment support, and an award-winning adoption assistance benefit.
ABOUT TCG
TCG supports Federal agencies in developing government that is efficient, transparent, and ethical. It provides the federal government with positively distinct IT and management advisory services in Agile development, federal shared services, budget formulation and execution, and health science analytics that help government programs and America succeed.
Learn more about our B Corp Certification and read our Annual Benefit Report. Interested in working for TCG? Visit our Careers page.
ABOUT REAL LEADERS
Real Leaders is a membership community for impact leaders with a global media platform dedicated to driving positive change. It's on a mission to unite farsighted leaders to transform our shortsighted world. Founded in 2010, Real Leaders recognized early on that businesses bore a responsibility to be as cognizant of their impact on employees, society, and the planet as they are on their bottom line. Real Leaders is a B Corporation, member of the UN Global Compact, and is independently owned.