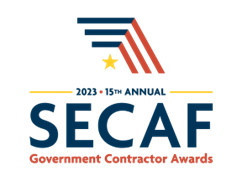 TCG is honored to receive the Award of Excellence from the Small and Emerging Contractors Advisory Forum (SECAF). The Award of Excellence highlights an organization that represents excellence within their community, the government contracting industry, and towards employees. The award was announced at a gala event on May 4.
"TCG is proud to receive the SECAF Award of Excellence," said Daniel Turner, TCG's President. "We've worked hard to build an organization that proves government contractors can treat employees and clients fairly, with honesty and openness. That's part of our purpose as a certified B Corp, and it's wonderful to have that work recognized by our industry peers. We are privileged to get to work with some of the smartest, most dedicated people in the United States — people who believe in the power of government to do great things, and who are committed to improving human lives and repairing our planet."
As a certified B Corp, TCG is committed to proving that businesses can do good while being good. Each year, TCGers vote on a specific cause for volunteer work and fundraising initiatives throughout the year. In addition to donating 1% of profits to the chosen cause, $1,000 each month is allocated to hold social and charity sprees.
TCG's full-time Happiness Department ensures that our people have the best community, culture, professional development opportunities, and work/life balance in the industry. We've continued our commitment to employees through new perks and benefits and, most importantly, by ensuring that TCG is an inclusive workplace. TCG appointed a Director of Diversity, Justice, Equity, and Inclusion (DJE&I) to lead initiatives that promote better cultural awareness, competence, empathy, and emotional intelligence around DJE&I.
Historically, the IT industry has been challenged in creating dynamic, diverse workplaces. TCG provides paid leave to employees volunteering with organizations that provide minority groups a pathway to pursue a career in IT. Organizations include Code for Baltimore, Code for DC, The Black Code Collective, CodePath, and Girls who Code.
"The SECAF Awards give us an opportunity to highlight the small and emerging contractors that are succeeding in our market," said Mitchell Ross, Principal at Acquisition and Management, LLC, and Chair of the SECAF Board of Directors. "TCG exemplifies the successful journey that can result from a commitment to serving the public sector market."
About TCG
TCG supports Federal agencies in developing government that is efficient, transparent, and ethical. It provides the federal government with positively distinct IT and management advisory services in Agile development, federal shared services, budget formulation and execution, and health science analytics that help government programs and America succeed.
Learn more about our B Corp Certification and read our Annual Benefit Report. Interested in working for TCG? Visit our Careers page.
About The 15th Annual SECAF Awards Gala
The 15 th Annual SECAF Awards Gala is the premier commemorative event honoring the small and emerging government contractors and the players in the ecosystem that rely on small business.
About The Small and Emerging Contractors Advisory Forum
For more than 20 years, the Small and Emerging Contractors Advisory Forum (SECAF) has empowered government contractors to scale and succeed. SECAF is comprised of the senior leaders from active government contractors and established service providers. Members have access to the connections, events, education, tools and resources needed to stay on top of industry trends, win government contracts, and experience exponential growth. For more information, visit www.secaf.org.