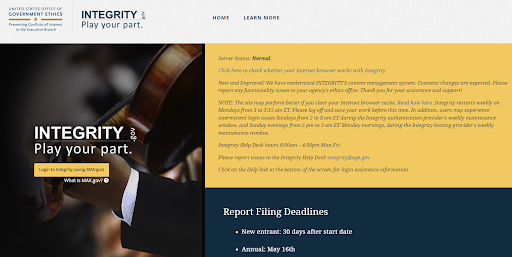 TCG has been awarded the IT Support Services contract for the Integrity.gov Public Financial Disclosure System for the Office of Government Ethics (OGE). The award is worth $7.5 million over three years.
This contract continues our work with OGE in supporting the government's main financial disclosure system, Integrity.gov, a critical tool for ensuring transparency and identifying and resolving conflicts of interest among public officials and senior executives throughout government. It is TCG's mission to create a more transparent, efficient, and ethical government, and we're delighted to continue supporting OGE in their great work.
TCG has supported OGE through the OMB MAX program since 2014. This is the first time OGE has awarded a separate contract to anyone for Integrity.gov.
Integrity.gov was launched in 2014 and provides a secure, web-based system through which individuals may file mandatory financial disclosure reports (OGE Forms 278 and 278‑T). TCG will provide support for Integrity.gov through:
IT Operations and Maintenance

Integration Services

Critical Information Protection and Information Assurance

Digital Government

Software Development
Integrity.gov provides modern and cost effective public financial disclosure management for all required public filers. During the first filing season after Integrity.gov was launched, it was used by approximately 6,500 filers. Currently, 93% of filers throughout the government use Integrity.gov.
About TCG
TCG aims to improve the world around us, in big and little ways, every day, for our staff, clients, and community. TCG provides IT and management advisory services in Agile development, federal shared services, budget formulation and execution, and health science analytics that help government programs and America succeed. Visit www.tcg.com.
About OGE
The United States Office of Government Ethics (OGE) leads and oversees the executive branch ethics program which is at work every day in more than 130 agencies. The executive branch ethics program works to prevent financial conflicts of interest to help ensure government decisions are made free from personal financial bias.