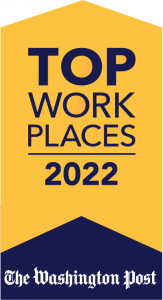 TCG is very excited to announce that the company has again been named a Top Workplace! TCG is ranked 16 out of the 75 medium-sized businesses that were named to the list. Selection is based entirely on employee feedback gathered through an anonymous third-party survey, which measures several aspects of workplace culture, including alignment, execution, and connection.
"Everyone knows that the labor market is challenging right now, especially for firms whose employees have discovered they can exercise power over their work experience," said Daniel Turner, President of TCG. "TCG has been able to avoid the Great Resignation because building and maintaining a positive, engaging, and transparent workplace has been part of our company's identity from the start. We're proud and thankful that TCGers value working here and see us as a Top Workplace."
As a Public Benefit Company and a Certified B Corporation, ensuring employee well-being and creating a positive, collaborative workplace are part of TCG's mission. TCG has had a remote-work-first policy since our inception over 25 years ago, and has won national recognition for building a vibrant, positive workplace culture even as our employees work from home or at client sites. We prioritize flexible scheduling built around our Core Value, "We value our families." TCG offers benefits for the whole person, such as emergency child care assistance, student loan repayment support, and an award-winning adoption assistance benefit.
In addition to the Top Workplaces award, TCG President Daniel Turner received the Washington Post's Top Workplaces Leadership Award for midsize businesses. This year the award recognized business leaders for creating and maintaining a positive and engaged workplace during a pandemic, historic inflation, a social justice movement, and the Great Resignation.
"The Post's Top Workplaces list is now in its ninth year and continues to highlight the companies in the Washington-area that employees deem to be leaders in company satisfaction and engagement," said Washington Post Top Workplaces editor Dion Haynes."Each year, the leaders at these companies are commended for their leadership and collegiality, qualities which have increased in importance to employees with the last few years of heightened transition and change."
About TCG
TCG aims to develop government that is efficient, transparent, and ethical. It provides the federal government with positively distinct IT and management advisory services in Agile development, federal shared services, budget formulation and execution, and health science analytics that help government programs and help America succeed. Visit www.tcg.com.
About The Washington Post
The Washington Post is an award-winning news leader whose mission is to connect, inform, and enlighten local, national and global readers with trustworthy reporting, in-depth analysis and engaging opinions. It combines world-class journalism with the latest technology and tools so readers can interact with The Post anytime, anywhere.