By day, TCGers develop complex applications and web tools that helps government address socio-economic issues and serve communities nationwide. By night (and sometimes on the weekends), TCGers basically do the same thing. For the past several months, a group of TCGers have been helping a local organization called Capitol City Robotics build their website. Capitol City Robotics helps underrepresented and underprivileged youth in D.C. gain access to STEM education through robotics engineering and computer science activities. The nonprofit organization holds a number of fun Lego and VEX IQ competitions for students in an effort to inspire future generations to pursue STEM careers.
The goal of the project was to create an accessible website that could be easily maintained by Capitol City Robotics after it was launched. The TCG team handed the maintenance of the site over to Capitol City Robotics in late October. Although the TCGers are standing by for questions, their support of the Capitol City Robotics website is now over, and they must watch their project take flight.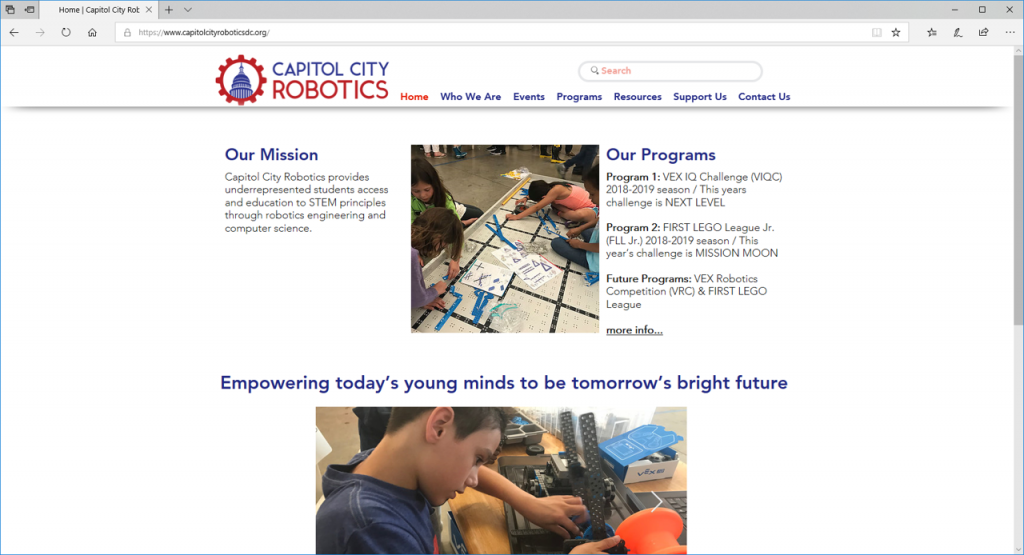 The TCG team helping with this effort included a .Net Developer, QA and Documentation Specialist, Test Engineer, PHP Developer, JavaScript Developer. Over the course of several months, the team built the organization's website infrastructure and interface design. There were numerous user-friendly features that the team needed to implement into the site, so the administrators of Capitol City Robotics could eventually take over. These features will help the nonprofit administrators plan and schedule outreach events accordingly. It will also help families and followers of Capitol City Robotics keep a closer eye on upcoming events. The website will provide the organization's staff with tools to enhance their communication efforts to D.C. youth and donors.
Earlier this year, TCGers voted on this year's annual theme to support STEM education for girls and minorities. Supporting Capitol City Robotic emphasizes TCG's efforts to support the annual theme, and it also speaks to TCG's mission to improve the world, in big and little ways, every day. Dheeraja Vanama, a .NET developer at TCG, said, "We were happy to be a part of Capitol City Robotic's journey."
To check out the fruits of the TCGers labor of love, and to find more information about Capitol City Robotics, check out their website here.