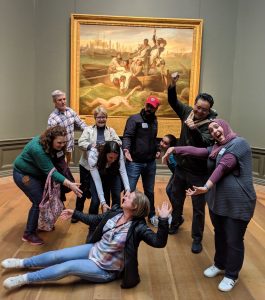 TCG Sprees had a fast start in 2019. The first event of the year was a Charity Spree at Arlington National Cemetery. TCGers volunteered to help clean up thousands of wreaths that are placed at veterans' gravestones in mid-December. Six TCGers and their family members met on an early January morning by the Iwo Jima memorial, and were armed with hockey sticks, jump ropes, and dog leashes to collect and carry multiple wreaths.
After the clean-up, they ended the spree by watching the moving Changing of the Guard ceremony at the Tomb of the Unknown Soldier. TCG made a donation after the spree.
Our February Spree took advantage of DC's world class museums. TCGers were guided through the National Gallery of Art by Museum Hack, "the leader in unconventional tours of America's best museums" (or so it says here). Nine TCGers ducked in and out of galleries, learning about loves and lovers, creepy babies and mythical pets, and odd facts surrounding many of the great works in the museum. Who wouldn't want to learn that Samuel F.B. Morse painted a gigantic work showing all 80 members of the House of Representatives in chamber, before he became the inventor of the telegraph and the code named after him? The aforementioned painting is housed in the National Gallery of Art. TCGers also took pictures recreating many of the art pieces on display (pictured here).
TCG also had an introductory indoor scuba diving lesson spree led by certified PADI Scuba instructor and resident Risk Management Architect Michael Brunetto.
It should be an exciting spring with sprees at a Washington Capitals hockey game, indoor skydiving, a DC United soccer game, and a biking spree on the Mount Vernon Trail.