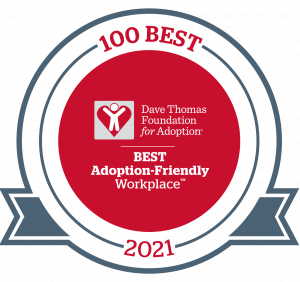 For the seventh time, TCG has been named one of the Best Adoption-Friendly Workplaces by the Dave Thomas Foundation for Adoption. Companies are surveyed and scored on financial support for adoption and foster care, paid leave for parents, and the percentage of employees eligible for those benefits.
"TCG values families. They come in all shapes and sizes, and can be formed in a lot of different ways," said Daniel Turner, President of TCG. "That's why we're proud to offer all TCGers help for adoption and foster care. Strong families aren't just a good thing; they're essential for our communities. Money shouldn't get in the way of providing a great home for a child."
A strong advocate for family-friendly benefits, TCG offers comprehensive support for adoptive and foster parents.
For adoptive parents, TCG reimburses up to $18,000 in adoption-related expenses for each child. The reimbursement covers agency, legal, immigration, and other associated fees, plus transportation, lodging, and immunizations costs.
For foster parents, TCG offers $1,000 of foster care assistance for the first year that a TCGer is a foster parent and up to $2,000 for families with multiple foster children.
TCGers may allocate up to $13,570 of pre-tax income to a flexible spending account each year to help cover adoption and foster care expenses, and TCG's assistance program facilitates that account.
Adoptive and foster parents may take up to three weeks of paid leave after bringing home a child, and are provided access to emergency childcare services.
The 2021 list includes a diverse group of organizations representing 22 industries. On average, employers that completed the survey offer $10,961 in financial reimbursement, which is up 7.9% from 2020. The average amount of paid leave is 7.69 weeks, holding steady from last year's average.
Rita Soronen, President & CEO of the Dave Thomas Foundation for Adoption, said "Adoption expenses or the inability to take time off of work to bond with a foster or adoptive child should not stand in the way of a family pursuing adoption. It is our hope that robust adoption benefits, like those offered by several of this year's survey participants, will soon become the norm."
About Dave Thomas Foundation for Adoption
The Dave Thomas Foundation for Adoption is a national nonprofit public charity dedicated exclusively to finding permanent homes for the more than 150,000 children waiting in North America's foster care systems. Created by Wendy's® founder Dave Thomas who was adopted, the Foundation implements evidence-based, results-driven national service programs, foster care adoption awareness campaigns and innovative grantmaking.
About TCG
TCG (https://www.tcg.com) provides the Federal Government with positively distinct IT and management advisory services in Agile development, federal shared services, budget formulation and execution, and health science analytics that help government programs and America succeed.