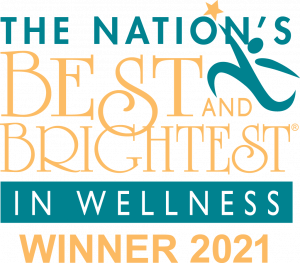 TCG has been ranked among the winners for the Nation's Best and Brightest in Wellness Award. The award, given by the National Association for Business Resources (NABR), honors companies that promote employee well-being, worksite health, and wellness.
The national winning companies were assessed on employee participation, incentives, benefits and programs, leadership, employee input, culture, and environment. TCG is one of 100 companies to be named a winner.
"As a certified B Corp and a Public Benefit Corporation," said Daniel Turner, President of TCG, "It is incumbent upon us to ensure that we are making a positive impact on our employees, our community, society, and the environment. That positive impact cannot happen without employee wellness. And wellness needs to take into consideration the networks of people that fill and enrich the lives of TCGers. These networks of people and communities are the reason why we do our work and make possible the work we do, and we see them as a vital part of our organization."
In addition to the usual benefits, TCG offers employees support for emergency in-home childcare, adoption and foster care, flexible scheduling, parental leave, student loan repayment assistance, as well as free tickets to sporting events, the use of a vacation home in the mountains, and other fun perks.
To support our communities and encourage them to contribute to our well-being, TCG also supports social causes and the volunteer work of our employees.
"The Best and Brightest is a community of elite leaders who share ideas and practices, and have proven they are employers of choice. Best and Brightest winning companies like TCG have also been a voice for important action in creating a sustainable culture that works and ensuring the wellbeing of their employees come first," said Jennifer Kluge, President and CEO, NABR and the Best and Brightest Program.
About TCG
TCG (https://www.tcg.com) aims to improve the world around us, in big and little ways, every day, for our staff, clients, and community. TCG provides the federal government with positively distinct IT and management advisory services in Agile development, federal shared services, budget formulation and execution, and health science analytics that help government programs and America succeed.
About the Best and Brightest in Wellness® Program
The Best and Brightest in Wellness®, a program of the National Association for Business Resources, celebrates those companies that are making their businesses flourish, the lives of their employees better and the community a healthier place to live. Visit www.thebestandbrightest.com for more information.