TCG is a certified Great Place to Work® for the sixth year in a row. The certification is based entirely on what current employees say about their experience working at TCG. This year, 98% of survey respondents said TCG is a great place to work with over two-thirds of the company completing the survey. TCG received particularly high marks for being a welcoming place with honest and ethical business practices. TCG is on the mid-sized company list for the first time this year.
"98% of TCGers said that TCG is a great place to work," said TCG President Daniel Turner. "Amid the challenges of the last 16 months, a three-point improvement is fantastic to see. We're pretty sure our 27-year track record as a telework-first company helped us keep TCGers connected and thriving throughout the year. Now that the U.S. is moving into a new phase, our goal is to keep our employees happy, connected, excited, and engaged. We're not going to go back to 'normal,' but then we were never normal. Our employees are the best testament to that. As Maya Angelou said, 'If you are always trying to be normal, you will never know how amazing you can be.'"
According to Great Place to Work research, job seekers are 4.5 times more likely to find great managers and supervisors at a Certified great workplace. Additionally, employees at Certified workplaces are 93% more likely to look forward to coming to work, and are twice as likely to be paid fairly, earn a fair share of the company's profits and have a fair chance at promotion.
TCG is a certified B Corp, and we are dedicated to offering the best community, culture, and professional development opportunities in the industry. We encourage interested individuals to review our current career openings.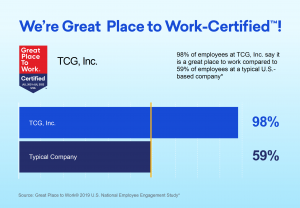 About TCG
TCG (https://www.tcg.com) aims to improve the world around us, in big and little ways, every day, for our staff, clients, and community. TCG provides the federal government with positively distinct IT and management advisory services in Agile development, federal shared services, budget formulation and execution, and health science analytics that help government programs and America succeed.
About Great Place to Work Certification™
Great Place to Work Certification is the only recognition based entirely on what employees report about their workplace experience – specifically, how consistently they experience a high-trust workplace. Great Place to Work Certification is recognized worldwide by employees and employers alike and is the global benchmark for identifying and recognizing outstanding employee experience. Every year, more than 10,000 companies across 60 countries apply to get Great Place to Work-Certified. Since 1992, Great Place to Work has surveyed more than 100 million employees worldwide and used those deep insights to define what makes a great workplace: trust.