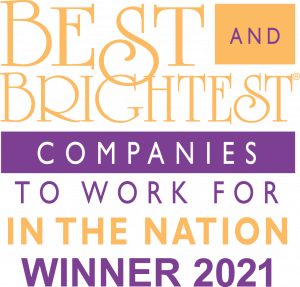 TCG is excited to announce that it has been named a Summer 2021 Winner of The Best and Brightest Companies to Work for in the Nation by the National Association for Business Resources.
The Best and Brightest Award honors companies that display a commitment to excellence in operations and employee enrichment. Organizations are assessed based on communication, work-life balance, employee education, diversity, recognition, retention and more.
"After the fourth year in a row of winning this award, it would be easy to take it for granted," said Daniel Turner, President of TCG. "But these awards remind me — and all of us — about all the things we need to be constantly thinking about in order to help our people be the positive influences on our world that they want to be. I'm grateful to them and I'm grateful for these awards because they provide a nice opportunity to come up with new ways to show our appreciation as a company to our employees."
TCG is a certified B Corp, and we are dedicated to offering the best community, culture, and professional development opportunities in the industry. We encourage interested individuals to review our current career openings.
About TCG
TCG (https://www.tcg.com) aims to improve the world around us, in big and little ways, every day, for our staff, clients, and community. TCG provides the federal government with positively distinct IT and management advisory services in Agile development, federal shared services, budget formulation and execution, and health science analytics that help government programs and America succeed.
About Best and Brightest Programs
The Best and Brightest Companies to Work For® competition identifies and honors organizations that display a commitment to excellence in operations and employee enrichment that lead to increased productivity and financial performance. This competition scores potential winners based on regional data of company performance and a set standard across the nation. This national program celebrates those companies that are making better business, creating richer lives and building a stronger community as a whole.