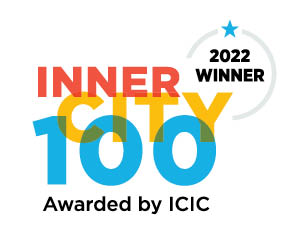 For the thirteenth year, TCG is honored with an Inner City 100 (IC100) award. The Inner City 100 program celebrates the 100 fastest-growing businesses in under-resourced communities across the nation. According to the Initiative for a Competitive Inner City (ICIC), 14% of the population, or roughly 45 million people, are inner city residents.
The ICIC developed the IC100 award as a way to recognize all that small businesses contribute to the American economy. According to ICIC, small businesses create jobs, provide vital services, and generate wealth for the betterment of their respective communities.
IC100 awards are published annually and unveiled at the ICIC National Conference, which was held this year on December 8. TCG is ranked 73rd on the list, moving up from 84th in 2021.
TCG is a proud D.C.-based business, but being an inner city business means more than contributing to the tax base. TCG has adopted two parks in the city and supported its employees' volunteer work at area food banks, among other efforts.
Steve Grossman, CEO of ICIC, stated, "Businesses continue to contend with profound socioeconomic issues that have severely tested their ability to emerge stronger. The global pandemic, inflation, severe workforce limitations, and supply chain issues continually impact small business owners. Yet despite this challenging outlook, the Inner City 100 class of 2022 prevailed and stayed open for business."
Winners of the 2022 IC100 come from 57 cities across 28 states from 25 different industries.
About TCG
TCG supports Federal agencies in developing government that is efficient, transparent, and ethical. It provides the federal government with positively distinct IT and management advisory services in Agile development, federal shared services, budget formulation and execution, and health science analytics that help government programs and America succeed.
Learn more about our B Corp Certification and read our Annual Benefit Report. Interested in working for TCG? Visit our Careers page.
About ICIC
Initiative for a Competitive Inner City (ICIC) was founded by Harvard Business School Professor Michael Porter in 1994 as a research and strategy organization that today is widely recognized as the preeminent authority on the economies of under-resourced communities. ICIC drives inclusive economic prosperity in under-resourced communities through innovative research and programs to create jobs, income, and wealth for local residents. Learn more at www.icic.org.