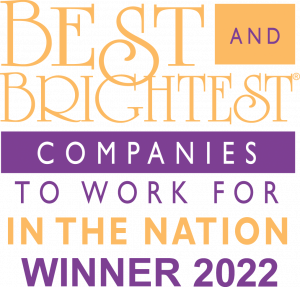 TCG has been named a Best and Brightest Company in the Nation by the National Association for Business Resources. The award recognizes companies that prioritize employee development, wellbeing, and work-life balance.
Companies were assessed by an independent research firm which reviewed a number of key measures including a commitment to excellence in operations and employee enrichment.
"For TCG, being a 'best and brightest' company means we're walking the walk of our commitment to provide a positive workplace for employees, while doing work that benefits our country and communities," said Daniel Turner, President of TCG. "That commitment is also integral to our status as a Certified B Corp, aligning us with other companies dedicated to using business as a force for good. There aren't many Certified B Corps in our industry, so we're proud to be a leader in this area."
As a Public Benefit Company and a Certified B Corporation, ensuring employee well-being and creating a positive, collaborative workplace are part of TCG's mission. TCG has had a remote-work-first policy since our inception almost 30 years ago, and has won national recognition for building a vibrant, positive workplace culture even as our employees work from home or at client sites. We prioritize flexible scheduling built around our Core Value, "We value our families." TCG offers benefits for the whole person, such as emergency child care assistance, student loan repayment support, and award-winning adoption and foster care assistance benefits.
"These 2022 winning organizations have stood out during unpredictable times and have proven they are an employer of choice. They continue to keep the needs of their employees first and provide perks that include development, wellbeing, work-life balance, rewards and recognition. In addition, these winning companies offer a fantastic work culture and workplace environment that attracts and retains superior employees", said Jennifer Kluge, President and CEO of NABR and The Best and Brightest Program.
About TCG
TCG supports Federal agencies in developing government that is efficient, transparent, and ethical. It provides the federal government with positively distinct IT and management advisory services in Agile development, federal shared services, budget formulation and execution, and health science analytics that help government programs and America succeed.
Learn more about our B Corp Certification and read our Annual Benefit Report. Interested in working for TCG? Visit our Careers page.
About the Best and Brightest Program
This national program celebrates those companies that are making better business, creating richer lives, and building a stronger community as a whole. Visit the bestandbrightest.com for more information.