Throughout challenging year, company keeps and expands its commitment to employee well-being
The Washington Post has recognized TCG as a 2021 Top Workplace. TCG is ranked 22 out of the 75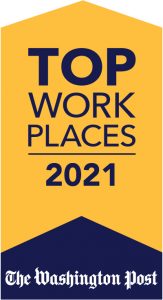 medium-sized businesses that were named to the list. This is the seventh year in a row that TCG has been recognized as a Top Workplace.
Selection is based solely on employee feedback gathered through an anonymous third-party survey, which measured several aspects of workplace culture, including alignment, execution, and connection.
"The last 15 months were really, really hard for most companies," said Daniel Turner, President of TCG. "The enormous upheaval that the pandemic wrought meant we were often making policy with even more limited information than we typically have. I'm proud that we kept and expanded our commitment to making TCG a positive, healthy, and inclusive workplace. We made an extra effort to communicate with and support TCGers, and provided ways for our people to connect professionally and socially during a time when we were all experiencing isolation. Our employees are exceptional people, and we are lucky they are on our team."
"Now in its eighth year, The Post's Top Workplaces list continues to highlight the companies in the Washington-area that are leaders in company satisfaction and engagement," said Washington Post Top Workplaces editor Dion Haynes. "These companies have had to make quick decisions in order to keep their employees safe while also balancing productivity and efficiency, and their employees have taken note of this great work."
About TCG
TCG (https://www.tcg.com) aims to improve the world around us, in big and little ways, every day, for our staff, clients, and community. TCG provides the federal government with positively distinct IT and management advisory services in Agile development, federal shared services, budget formulation and execution, and health science analytics that help government programs and America succeed.
About The Washington Post
The Washington Post is an award-winning news leader whose mission is to connect, inform, and enlighten local, national and global readers with trustworthy reporting, in-depth analysis and engaging opinions. It combines world-class journalism with the latest technology and tools so readers can interact with The Post anytime, anywhere.