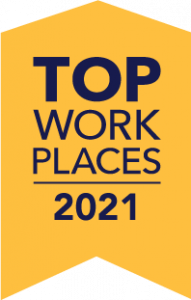 TCG's culture has earned national recognition for excellence in supporting employee well-being by Top Workplaces.
The winners were determined from an employee survey conducted by Engerage in January of this year, and TCG scored among the top companies for putting health and wellness at the center of its culture. Energage also runs the Washington Post Top Workplaces award, which TCG has received for the last seven years.
"We provide brainy and well-educated IT and management experts to the Federal Government, so it's just good business sense to support our employees on and off the job," said Daniel Turner, President of TCG. "After all, having good health is key to performing well. But doing our part to help TCGers thrive at work and in life is also just the right thing to do and is part of our mission as a B Corporation. One of the ways we do this is through our Employee Happiness Team, a department with executive-level leadership that works with our employees to understand their experience and their needs."
As a Certified B Corp, TCG is dedicated to offering the best community, culture, and professional development opportunities in the industry. We encourage interested individuals to review our current career openings.
About Energage
Energage helps organizations empower workplace excellence by turning employee feedback into useful talent intelligence and credible employer recognition through Top Workplaces. Built on 15 years of culture research and the results from 23 million employees surveyed across more than 70,000 organizations, Energage delivers the most accurate competitive benchmark available.
About TCG
TCG (https://www.tcg.com) aims to improve the world around us, in big and little ways, every day, for our staff, clients, and community. TCG provides the federal government with positively distinct IT and management advisory services in Agile development, federal shared services, budget formulation and execution, and health science analytics that help government programs and America succeed.